HIGH POINT, N.C., Dec. 5, 2017 – Karen Jacobsen, known as "The GPS Girl" and the most downloadable voice in the world, is High Point University's newest Global Artist in Residence. Through an ongoing partnership, Jacobsen will connect with HPU students and faculty for experiential learning opportunities.
A native of Mackay, Australia, Jacobsen is well known internationally for her voiceover work. Her voice has been featured in text-to-speech systems in more than a billion GPS and smartphone devices worldwide. This includes recording 50 hours in the studio to create the female Australian voice of the original Siri application featured on Apple iPhones, iPods and iPads.
Jacobsen performed on HPU's campus during the annual Veterans Day Celebration in November and visited students in music and communication classes. She will also perform at HPU's annual Community Prayer Breakfast, held at 7:30 a.m. on Friday, Dec. 8. The event will be held in the James H. and Jesse E. Millis Athletic and Convocation Center on campus and is free and open to the public.
For more than 20 years, Jacobsen has been heard on thousands of television and radio commercials through her voice-over work for top national and international brands, and in many customized voice systems around the world. This includes applications for elevators, cruise ships, cinemas, hotels, car washes, electronic devices and software.
Jacobsen provides professional speaking services through her business, The GPS Girl, which combines her GPS fame with her love of personal development. She shares a message of "recalculating" in life as a keynote speaker at conferences and events worldwide. She is the author of two books, "The GPS Girl's Road Map for Your Future" and "Recalculate – Directions for Driving Performance Success."
"To be chosen for this role at HPU is very exciting and moving," says Jacobsen. "It's an honor to join some of the world's greatest innovators, like Steve Wozniak, Apple Co-founder and HPUs Innovator in Residence, as a mentor on campus. It's also really fun, because my speaking voice has been featured in devices that would not exist without Wozniak's vision and his brilliance. So there's a really beautiful synergy there."
Jacobsen is also an accomplished singer having performed anthems for major sporting events in both the United States and Australia. Her songs have been featured on the soundtracks for "Dawson's Creek" and the NBC show "Passions."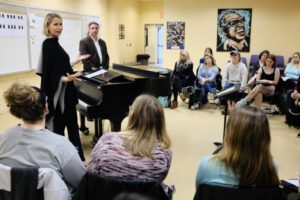 Jacobsen is pictured working with students during a recent visit to HPU's campus.