Voice-Over Artist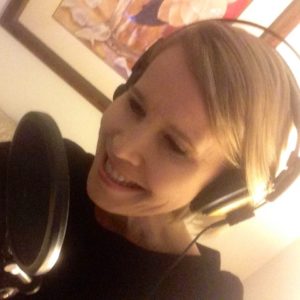 For more than twenty years, Karen's speaking voice has been heard on literally thousands of television and radio commercials.
Listen to Karen's Voice Reel Now
Initially singing jingles in studios in Brisbane and Sydney, Australia, her many Voice-Over clients have included top national and international brands,  IVR and long running advertising campaigns.
The Call That Changed Everything
In 2002 things changed in ways no-one could have anticipated.
Karen was asked to audition for a text-to-speech voice system. The client was looking for a native Australian female voice-over artist living in the North-East of the United States.
The Only Woman Men Will Take Directions From!
Karen booked the job, and recorded for 50 hours in the studio to create a voice system now heard in over a billion GPS and smartphone devices around the world.

As a member of the Screen Actors Guild – AFTRA, Karen's voice has been heard on national commercial campaigns in the USA, and in many customized voice systems around the world.
Some of the more unexpected places her voice has been found include:
elevators
cruise ships
electronic devices
cinemas
hotels
audio books
software applications
and once even in a car wash.
Voted the number one downloadable voice in the world, Karen is in demand to create custom voice systems for clients internationally.
Is Aussie Karen's voice available for you? Absolutely.
Source Connect: thegpsgirl
Email bookings@kurlyqueen.com to have The GPS Girl's voice on your next project
The GPS Girl Brand            
Realizing there was a brand to be created, Karen trademarked The GPS Girl® combining her GPS fame with her love of personal development.
Karen made the connection between directions in the car and directions in life and now shares the message of Recalculating:
as a Keynote Speaker at conferences and events worldwide
as the Author of The GPS Girl's Road Map for Your Future and Recalculate – Directions for Driving Performance Success
in media appearances and interviews
#itisnevertoolatetorecalculate
Featured at SAG Foundation Voice-Over Industry events in New York City and in demand for customized voice systems, being in the recording studio is second nature.
Together with New York Voice-Over Artist and Coach Joan Baker, Karen created a five module Voice-Over Business Building Course; Creating a Road Map for Voice-Over Success. For more information visit the Store.
Garmin GPS – Australian Karen – Worldwide
Navman GPS – Australian Karen – Worldwide
Mio GPS – Australian Karen – Worldwide
Apple iPhone 4s & 5 – Original Australian Voice of Siri
Aussie Haircare – USA
Tourism Whitsundays "Wonder of the Whitsundays" Campaign – Australia
Tresemme – UK
Disney – USA
Snuggles – USA
Mobile One – Singapore
P & O Cruise Ships – South Pacific
Blue Man Group – Las Vegas USA
Star City – Australia
More4Apps – New Zealand
Nationwide Insurance – USA
Sofitel Hotels – Australia
Electrolux – USA
Vodafone – Australia
Telstra Talking Text – Australia
Dora the Explorer – USA
Nationwide – USA