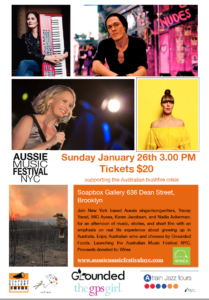 Australia Day Dreaming Concert launches regular music showcase in NYC
Three Aussies walk into a bar…three Aussie songwriters to be specific. The bar, UT47, a hip Korean-fusion cafe tucked away inconspicuously amidst the thrashing theatre district of Midtown Manhattan. With a desire to create a regular platform for original music, a plan was hatched.
NYC based Australians, Karen Jacobsen, MiG Ayesa and Tracey Yarad collaborate to bring you AussieMusicFestivalNYC a regular showcase of down under songwriters living in and visiting the big apple. Launching the project with a concert, the founders will be joined by Nadia Ackerman on January 26th, 2020 at 230PM at Soapbox Gallery.
"The number of Aussies living here has increased tremendously. I wish this opportunity and kind of community had existed when I first arrived", explains Karen, who is about to celebrate twenty years in
Manhattan.
"We are also excited to provide a space where visiting Aussie songwriters can be presented to an audience as plugged in as New Yorkers are", adds Tracey Yarad, who has been based in Brooklyn for three years, pursuing her passion for jazz and creativity following a decades long career as an award winning songwriter and performer in
Australia.
MiG Ayesa has had an extraordinary career, performing on Broadway (Rock of Ages, Burn the Floor), the West End (Rent, We Will Rock You), on television, film and releasing his songs internationally. Calling NYC home since 2010, MiG became known to US television audiences as a finalist in the ROCKSTAR:INXS reality television show.
Karen Jacobsen moved to NYC in 2000 realizing her childhood dream. Her speaking voice unexpectedly ended up in over a billion GPS/smartphones and as
the original Aussie Siri. She has been a clue in The New York Times crossword puzzle, called hypnotic by Harry Connick Jr on his talk show, and is currently recording her 10th album.
Tracey Yarad's musical journey has seen her perform regularly on live television, with the who's who of Australian music and releasing seven albums. She has lived and toured extensively in Japan, Europe and her native Australia and has a love for music education that was expressed in the music academy she founded in 2004 in the Blue Mountains.
Singer, Songwriter and Illustrator Nadia Ackerman 
arrived for good in 1998 and
released her sixth album The Well in 2019. Uniquely, she draws and writes each song, which led to her brand and store Natchie at Blackbarn in Chelsea. Nadia's designs are available as prints, homewares and gifts. She has an international following for both her art and her music.
Australia Day Dreaming will have an emphasis on stories, short film, song and real life experience about growing up in Australia. Enjoy Aussie wine and snacks provided by Grounded, at Soapbox Gallery, 636 Dean St, Brooklyn