Join me for a Listening Party celebration to hear the ten brand new songs from READY FOR WHAT I CAME HERE FOR. I will introduce each song LIVE from the Whitsundays near Australia's Great Barrier Reef, and share about the inspiration and behind the scenes of the creative process. I will then play the studio recording. From wherever you are in the world, let's celebrate new music and all good things. Ten cinematic, piano-driven songs with powerful female vocals and inspiring messages; the new album READY FOR WHAT I CAME HERE FOR is the music with a message the world needs right now. XOXO
You can PRE-ORDER the record at karenjacobsen.com
If you are in New York USA East Coast this event is 7PM Friday Nov 5th xo If you are in California USA West Coast this event is 4PM Friday Nov 5th xo If you are Sydney or Melbourne AUSTRALIA this event is at 10AM Saturday Nov 6th xo Listed time is Queensland, AUSTRALIA time zone xo
REGISTER AT THIS LINK in advance for the EVENT: https://youtu.be/dQZgBisr4Os
FOR TICKETS FOR THIS EVENT CLICK: PURCHASE TICKETS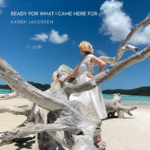 PRESS RELEASE: Ready For What I Came Here For – Karen Jacobsen The title track is an expression of her quest to make a difference and find deeper purpose in life. Produced by Matt Anthony (Darius Rucker, Shinedown, Pat Monahan of Train) at Engine Sound in New York City, recording began in September of 2019 before the interruption of the pandemic. After almost a year, video sessions and remote recording enabled the completion of the record between Karen's new location half a world away near Australia's Great Barrier Reef, and Matt's studio in the North-East of the United States (9560 miles to be exact).
Jacobsen's speaking voice reached pop culture status when she became the voice of the GPS and the original Australian voice of 'Siri.' This led to the creation of the empowerment brand The GPS Girl® and speaking engagements about "Recalculating" life. Her family Recalculated and relocated personally in 2020 heading to Australia for what they thought would be several weeks while the pandemic blew over. Now based at the edge of the Great Barrier Reef and the 74 tropical islands of the Whitsundays in North Queensland, Karen is the official Whitsundays Destination Ambassador and the voice of a wildly successful campaign to entice visitors to the region. The tourism sector has been deeply affected by COVID-19, and the Wonders of the Whitsundays campaign has garnered over AUD $12.5 million in bookings to date.
Despite the unexpected turmoil of moving countries, Karen says, "being in the most pristine nature and looking out at the Coral Sea has been a miracle for our family, not to mention endlessly inspirational. The beauty of nature is healing and we feel very fortunate to have been able to choose this option at a time that has been devastating for many." While recording began pre-pandemic, the cinematic piano-driven songs takes on new meaning in this time in the world and in the context of her personal relocation to Australia. When asked about the message behind her music, Jacobsen said "for many of us, 2020 has been a jolt, and yet an opportunity to take a stark look at our lives and what we want to experience. I personally know dozens of people who have made big decisions about their futures; from where they will live to what they spend their time doing. It's been an era of getting clear about what is truly important."
"Ready For What I Came Here For is a triumphant celebration and reawakening of purpose. Highly emotive yet softly versed, this track calls for meaningful introspection that left me feeling empowered." — Ellie D, Radio Boss @ OzNow Radio.
CREDITS Karen Jacobsen Ready For What I Came Here For Music & Lyrics: Karen Jacobsen (APRA) Piano & Vocals: Karen Jacobsen Guitar, Bass & Tracks: Matt Anthony Producer: Matt Anthony Recorded, Mixed & Mastered: Matt Anthony at Engine Sound, New York City ©Kurly Queen Records