Are You Ready For What You Came Here For?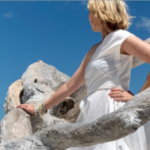 In 2019 I was doing a tremendous amount of personal development and had a huge breakthrough. This led to a creative awakening and I wrote the song READY FOR WHAT I CAME HERE FOR.
The message of this song is about finding deeper purpose in life, and when it came time to release the song, it was a natural next step to create a course to go with it. I will be sharing many of the tools I use to live an inspired life, after many years of insecurity and dissatisfaction.
I'm here on the planet to uplift. To share beauty and love in the world. The course is free and you can sign up below: