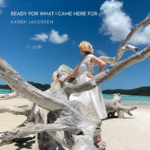 VOICE IN A BILLION DEVICES & SINGER SONGWRITER KAREN JACOBSEN
RELEASES NEW SINGLE "READY FOR WHAT I CAME HERE FOR"
Recommended if you like: Sara Bareilles, Olivia Newton-John and Wilson Philips
(Airlie Beach, Whitsundays, QLD AUSTRALIA – May 21, 2021) After an unexpected year in her native Australia, usually New York based international voice over artist, singer songwriter and motivational speaker, Karen Jacobsen celebrates the release of the first single of her new album READY FOR WHAT I CAME HERE FOR.
Written after the tragic death of a close friend of her husband, the song is an expression of the quest to make a difference and the search to find purpose in life. "READY FOR WHAT I CAME HERE FOR" is the 1st track from Karen Jacobsen's 10th studio album, produced by Matt Anthony (Darius Rucker, Shinedown, Pat Monahan of Train) at Engine Sound NYC.
While recording began pre-pandemic, the cinematic piano driven song takes on new meaning in this time in the world. When asked about the message of the song, Karen said "For many of us, 2020 has been a jolt, and yet an opportunity to take a stark look at our lives and what we want to experience. I personally know dozens of people who have made big decisions about their futures; from where they will live to what they spend their time doing. It's been an era of getting clear about what is truly important."
To celebrate the release, Karen is launching a free 14 day personal development course called READY FOR WHAT I CAME HERE FOR. The course shares tips, tools and daily actions to move closer to uncovering how to make a difference and what that tangibly looks like. Dealing with the big question "why am I here?" the course serves as inspiration to cut through the confusion of what to do to become clear about one of Karen's favorite topics, direction in life.
After her speaking voice became part of a unique pop culture status, Karen created the empowerment brand The GPS Girl and she speaks about Recalculating life. With the single launch and free course, she integrates Music and Message. Her family Recalculated personally in 2020 heading to Australia for what they thought would be several weeks while the pandemic blew over.
Now based at the edge of the Great Barrier Reef and the 74 tropical islands of the Whitsundays in North Queensland, Karen is the official Destination Ambassador and the voice of a wildly successful campaign to encourage visitors to holiday in the region. The tourism sector has been deeply affected by COVID 19, and the Wonders of the Whitsundays campaign has garnered over $11M in bookings to date.
Despite the turmoil of moving countries without planning to, Karen says "Being in the most pristine nature and looking out at the Coral Sea has been a miracle for our family, not to mention endlessly inspirational. The beauty of nature is healing and we feel very fortunate to have been able to choose this option at a time that has been devastating for many."
LISTEN to Ready For What I Came Here For on Spotify, Apple Music, Amazon or your favorite platform
Ready For What I Came Here For is a triumphant celebration and reawakening of purpose. Highly emotive yet softly versed, this track calls for meaningful introspection that left me feeling empowered. ​Ellie D, Radio Boss @ OzNow Radio.