Oh the avocado. I love it so.
Hopping off a flight to Australia and arriving at SFO with a layover, I do not always feel at my best. Add some avocado and my mood improves greatly!
I eat Avocado almost every day, and here is a quick, simple and delicious way to serve it at home.
Mash the avocado. Thinly slice some radishes. Scoop out pomegranate seeds. Finely chop cilantro.
Voila – add your favorite toast and you have quite the gourmet, healthy and delicious breakfast, lunch or snack.
The oasis in my travel desert is The Centurion Lounge at SFO where I experienced this scrumptious dish!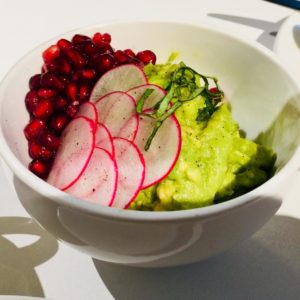 #centurionloungesfo @americanexpress